Orloff ensure recycling of used workwear
Recycle your used workwear
Now you and your company can ensure, that the workwear you no longer use, can be further processed, and recycled. Recycling of workwear has been high on our agenda for years. It has been difficult to find the right partner who has a sustainable and well-functioning solution, that we can vouch for.
The initiative regarding the recycling of workwear is a result of our work with UN's Sustainable Development Goals no. 12 which deals with responsible consumption and production.
Informant: Goal 12: Substantially reduce waste generation | Verdensmålene.dk
The worlds consumption of textiles is known as one of the major sinners when it comes to CO2 footprint and strain at our planet. We work with our suppliers on how they can deliver workwear that is more sustainable. There are many certifications, which in their own way define how textile production can ensure more sustainability. The overall goal is to reduce the total CO2 footprint, so the world consumes fewer resources than those the globe can reproduce.
At Orloff we do not produce the clothes ourselves. Therefore, we depend on our suppliers to take responsibility towards more sustainable production of textiles. Sustainability can be measured in all processes, right from the cotton field or where we find the raw material, during transport, in the design and production.
We also want to take responsibility for the workwear we sell, and we also know that many of our customers want to take responsibility for recycling the workwear that can no longer be used.
Therefore, your company can now make an agreement on handing in the workwear for recycling.
Contact our sales department and hear more about how we can ensure the recycling of clothes together. You can red more in the following, about where and how the workwear is recycled.
We look forward to being allowed to ensure the recycling of your employees used workwear.
We guarantee:
Complete recycling in a combination of resale and recycling
Security for logos, names, etc. will be removed
Certified process performed in the EU
Full traceability from start to finish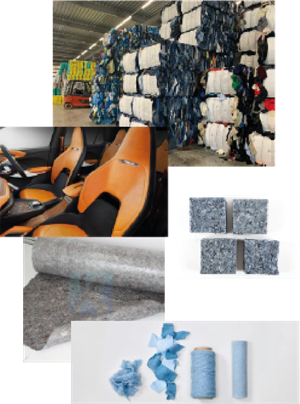 Application
Premium goods are sorted out for recycling, and sent to 3rd countries.


Underwear/T-shirts will be used in production og cloths


Leather goods go to tire manufacturing companies


Denim items, blouses and shirts go, depending on the type of material and nature, for textile production, production of paint carpet, filling in car seats and headrests or damping material


Vests, jackets, suits, towels, scarves and ties are well suited for the production of noise reduction material


Knitwear goes by material type for noise reduction materials, carpets or the auto industry.


Buttons without a logo wil be resold


Wet or unusable fabrics as well as buttons and closures with logo is used for combustion or metal recycling
Your can be safe in the process
We ensure recycling of used workwear. We work with Europe's newest and most advanced textile sorting, with 30 years of experience in textile sorting.
From the clothes collected in one of our departments, to the recycling process, we can provide documentation for recycling with complete traceability for the entire process.
Europe's newest and most advanced textile sorting
30 years experience in textile sorting


150 employees sorting textiles


130 tons textiles are sorted daily


300 assorted qualities and types


Solar-powered sorting plant